Icon Help
What's an .icl file?
An .icl is an icon library. It makes use of icons easier and makes them easier to transfer. some people have had some trouble with these. if you would like and of my collections in .ico format, feel free to Mail Me.
Just link the shortcut (or whatever you're using the icon for) to the .icl just like a regular icon and you'll get to choose which icon from the library you want.
The icons are 16 colors!
This is a problem I didn't know about until I got a new computer. And since i started using Win98, i've noticed that fixing it is different for Win95 and Win98. Follow the directions for whatever OS you have.
Windows 98 Users
Go to your Display properties and click the Effects tab. check the "Show icons using all possible colors" box and you're all set!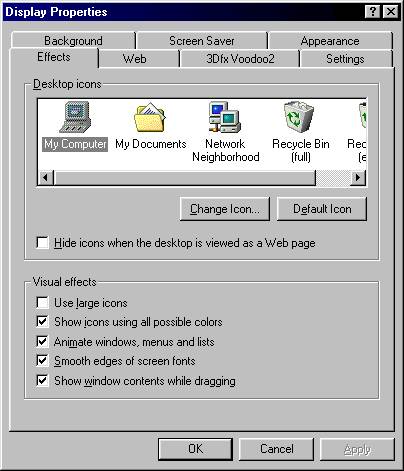 Windows 95 Users
Download this program and install it. It will add a tab called Plus! to your Display Properties that looks like the following picture. just check the "Show icons using all possible colors". This also gives you some other cool Plus! features.